Family Mazzetti, Machet
---
Approximately in 1580 arrives an Italian Nobel in Bolsward, Frisia, Netherlands. He originates from an old Italian noble family of bankers. This family had its roots in Bologna. From there they moved to Savoy (France) and in 1442 4 brothers bought a castle in the Italian Province Piemonte which was at that time controlled bij the Prince of Savoy.
In the Middle Ages several Mazzetti's can be found, e.g in Paris (France). Landuce Machet (or Mazzetti) supports (financially) the king of France, Philip IV, the fair, at the time of the Battle of the Golden Spurs in Flanders (Belgium). Afterwards the Landuce and his sons were rewarded for the support and stayed in Flanders. They and their descendants can be found on the site of the family de Baets. The Belgium historic Paul Rogghé has published an interesting article on this topic.;

De family name is notated in the different countries and times writen differently. Examples are Macet, Macett, Machet, de Machet, Macetti, Mazetti, Mazzetti, Mazet en Mazeth. The original version is probably Maccii.
In Italy, France and in the new world several Mazzetti's (in France: Machet) can be found.
It is nice to mention Gerard Machet; he was a cardinal at the court of the Dauphin, Charles VII, at the time of arrival of Jeanne d'Arc. He was involved with the interogation of the Maid of Orleans. His writings can be found in the Bibliotheque Imperiale in Paris.
Gerard Machet : cardinal français, confesseur de Charles VII né vers 1380 á Blois, mort le 17 juillet a Tours, 1391 entra au collège de Navarre á Paris, docteur en théologie 1411, chargé de présider l'interrogatoire de Jeanne d'Arc (Mars 1429) il accueillit cette héroine avec une sympathie bienveillante etc".

The beginning of the Mazzetti pedigree is at the four brothers: Giovanni, Domenico, Giovanni Ercole and Nicoletto.

Approximately 1580 Caesar Claudius Macett arrives from Piemonte in Bolsward (Netherlnads). Piemonte is a province of Italy in which Turin and Asti are the major cities. He was a Liege Lord Salugien and Monteferrat and had a castle in Frinco, a small town in the middle of Piemonte. He was like his ancestors banker. Why he moved to Bolsward is uncertain but fact is that he got there with his wife 4 daughters and 1 son. He dies in 1622 and is buried under the organ, the most important spot, in the big Martini Church in Bolsward.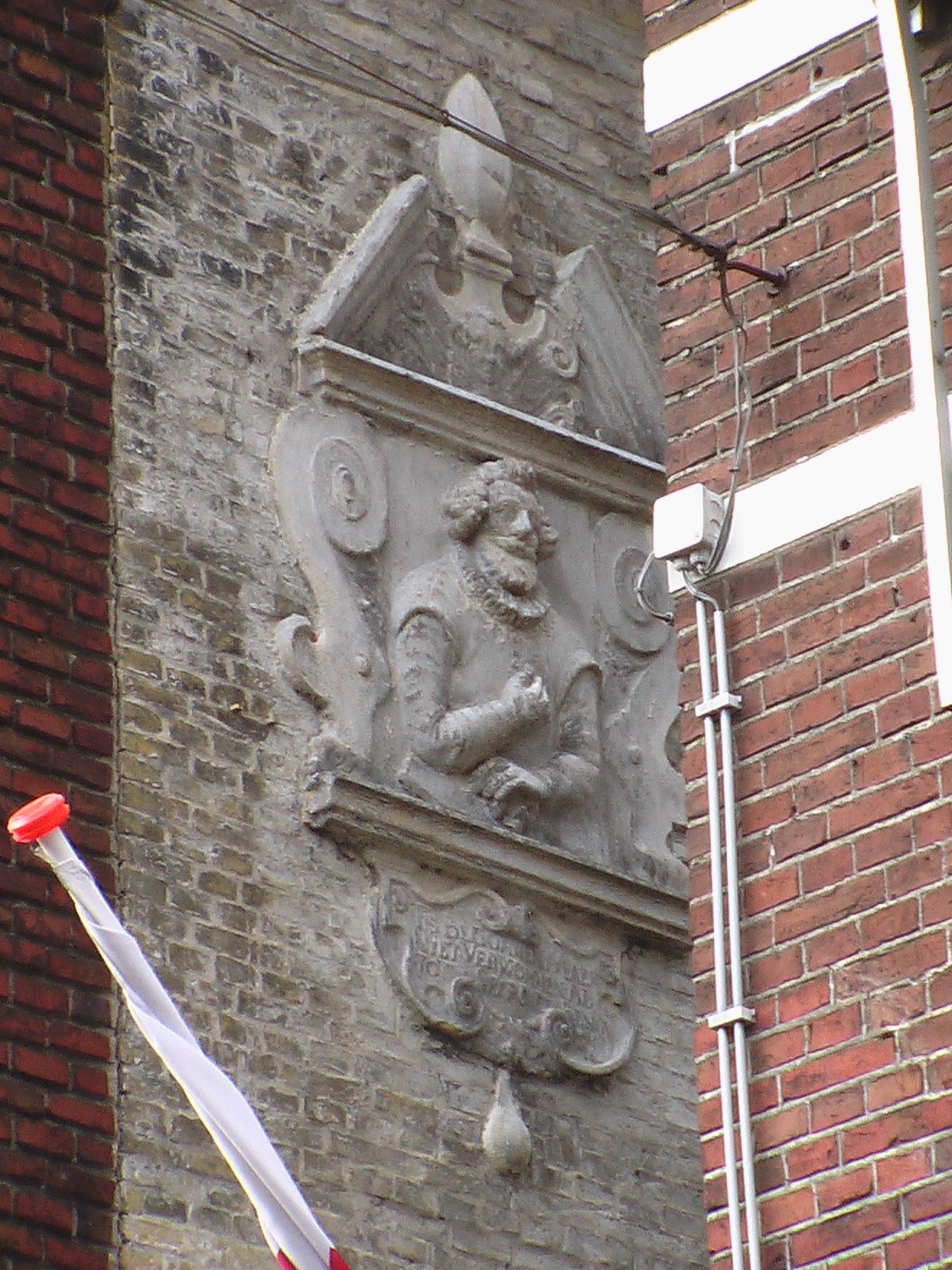 Facing Brick dated 1600 in the Lommertsteeg (Pawnshop alley) in Bolsward
with (probably) portrayal of Caesar Claudius Mazzetti.
't is begonnen
maer niet gewonnen
al ten spijt
van die 't benijdt
He is first mentioned as a taeffelhouder (banker) in Bolsward in 1586 in de stedepachten (rent) in the Nyehofstraat (a street) where he owns the houses numbered 1-3. On March 16th 1603 he buys with his wife Mayke the brewery located at 't Groot Sand (a street) for the amount of 1429 golden florins and 18 pennies. At the same time his properties, inclusive his castle, in Italy are confiscated by his nephew Ercole (Hercules). The reason for this is that Ceasar is living with heretics; the northern part of the Netherlands turned in that time into a protestant country.
It could also be that Caesar has fled to this part of the world because he had problems and in Bolsward he was save or he had protestant sympathies. At that time Bolsward was a quite isolated town were almost no foreigners settled; certainly not noblemen.
The only son of Caesar tried in 1658 to repossess the lost properties in Italy, by lobbying at the court of the Austrian Emperor Ferdinand III (Vienna) but at his return in Italy he is poisoned with a pasty.
| | | | |
| --- | --- | --- | --- |
| | | | |
Mazzetti castle in Frinco (Piemonte; Italy)

His four daughters, Catalina, Jeroentje, Trijntje and Franske, all got married. Catalina married a son of the major, Douwe Sijmens Eysma. Descendants of this family can be found on the sites of http://brontesisters.tripod.com/frinco/ and Y.Houkes-Winter.
Trijntje marries the Major, Frederik Bothes and Franske marries with Reverend Matthias C. Walsweer.
Jeroentje married first the brother of the famous Frysian poet Gysbert Japicx (Holckema), Evert Jaocbs. Her second marriage was with Ynthe Symens Ynthema. Their great grand daughter, Jeltje van der Veen married with Frans Arjens van der Hauw.
The last Mazzetti (Machet) in the Netherlands lived in 1807 in Amsterdam when a J.J. Machet an booklet made with the title : the French Perfumery.
Caesar Claudius Mazzetti FRINCO
OTHER LINKS:
http://www.daupher.it
CopyLeft:
for persons and non commercial parties


© Copyright: van der Hauw
Internet Services
For reaction: menno

vanderhauw.eu
---